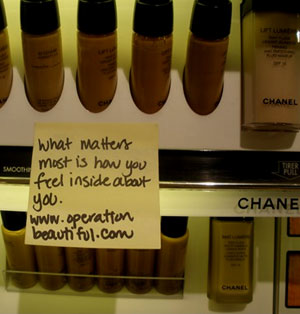 My fabulous friend Hannah sent me this website the second week of college when I was having a difficult day. She always knows the right thing to say, and is so supportive when I need her. College is the perfect place for something like Operation Beautiful! The mission from their website gives you a little idea of what they're all about!
The goal of the Operation Beautiful website is to end negative self-talk or "Fat Talk." If this little blog only does one productive thing, I hope it helps readers realize how truly toxic negative self-talk is — it hurts you emotionally, spiritually, and physically.
Through my own experiences fighting Fat Talk, I've realized the power behind an anonymous act such as Operation Beautiful. When I post a note, I'm saying, "I CHOOSE to be positive!"
I began Operation Beautiful by leaving positive messages on the mirrors of public restrooms — at work, at the gym, at the grocery store. I scribble down whatever comes to mind — "You are beautiful!" or "You are amazing just the way you are!" My personal goal is to leave as many Operation Beautiful notes as I can. Maybe some people read them and just smile, but I bet some people are truly touched by the effort of a random stranger.
Now go spread some love! <3